Currently I am living in Cairo again. One of my first really exciting discoveries since I am back was Amuse in Zamalek – Cairo's first lifestyle concept store.
It was founded by Viviane Abdel Messih, Dina El Batal and Gailan Fahim and is open since October 2010. I had the pleasure to meet Viviane Abedl Messih personally – thanks again for your help!
Amuse is located in high ceiling rooms with a slight industrial touch giving the presented clothes, accessories and objects enought space to unfold their full potential.


The range of fashion designers offered includes European and American contemporaries like Markus Lupfer, Hotel Particulier or House of Harlow and also more regional designers such as Asli Filinta (Turkey),  BodyAmr (Oman) or Nana's Closet (Egypt).
Asli Filinta from Turkey was new to me but her clothes instantly convinced me with their carefully designed details like butterfly shaped pockets or epaulette details on a cropped, striped shirt and cute animal prints. I fell in love with the fox t-shirt.
Jumpsuit, fox shirt, cropped shirt and shorts by Asli Filinta.
Trousers with butterfly detail by Asli Filinta.
More glamorous were the clothes from Nana's Closet. And again the details caught my eye, e.g. woolen, glittering threads as a kind of trim on the seam of a loosely shaped dress or cascadely drapped chiffon at the front of a maxi dress.

Besides clothes a full range of accessories is available: bags, jewelry, sunglasses… Here you find more Egyptian brands like Amina K., Nuniz or Nour Zein.
Jewelry by Nour Zein, clutch by Amina K., holdall bag by Nuniz.
Especially the bag by Nuniz attracted me – a timeless shape and enough space for everything you need. Also available and more a fun piece is the It Bag fom Cairo by Stephanie Levert.

A range of home accessories by e.g. Alchemy, Kartell and Boho, giftwear by Knock Knock and books complete the picture. Knock Knock can be a real savior when you are in need of a gift but have no idea what to buy. Their stuff is very creative and funny at the same time (e.g. the useless document folder in the last picture!).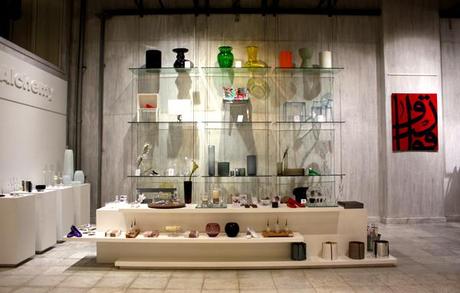 Giftwear from Knock Knock except the Fashion Rules puzzle.
To sum it up: Amuse is a really great place for fashion, accessories, giftwear and home decor with a lot to discover and a load of possibilities to spice up your wardrobe and home alike.
Amuse, 15 Ismail Mohammed St. (Borg Jeddah), Zamalek, Cairo
Shop hours: Mo-Thu, Sa 11-21:30, Fr 13:30-21:30