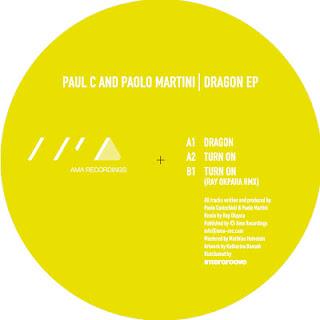 Am 06.06. erscheint auf
Ama Recordings
, dem Label von
Ray Okpara
, die achte Veröffentlichung. Diese kommt aus Italien von den Herren
Paul C
und
Paolo Martini
. Auf der
Dragon EP
befinden sich 2 Original Tracks, ein
Ray Okpara Remix
sowie ein Bonus Track für alle digitalen Freunde.
Ama Recordings 008
Im typischen Ray Okpara Stil, verläuft dann auch der Titeltrack der EP, Dragon. Druckvoll schieben hier Kick und Percussions, während sich der Track Stück für Stück aufbaut um sich in eine Art Trance Zustand zu loopen, während die Bassline Disco artig wie in den 70er vor sich hin springt. Auch Turn On, fällt sehr perkussiv aus, umrandet von einer tiefen, schwungvollen Bassline. Ray Okpara baut aus seinem Remix von Turn On einen groovenden, schon etwas ausgepflipten Gringo Tech House Track und der Bonus Track 48 Crash ist mit seinen Shakerspielerein ein sehr gut geeignetes Tool um mit einem überraschenden Sample welches einem ein Lächeln in das Gesicht zaubert.
Fazit:
Qualitativ hochwertiges Release auf dem Ray Okpara Label. Favorit ist Dragon, mit seiner hypnotisierenden Wirkung aber auch hier sind alle 4 Tracks gut einsetzbar im DJ Set.
Label: Ama RecordingsArtist: Paul C & Paolo Martini
Title: Dragon EPRelease Date:06.Juni 2012Format: Mp3, Wave, VinylPreview Source: SoundloudCat#.:AMA008Paul C & Paolo Martini - Dragon EP1. A1 - Paul C & Paolo Martini - Dragon 7.17
2. A2 - Paul C & Paolo Martini - Turn On 6.43
3. B1 - Paul C & Paolo Martini - Turn On (Ray Okpara Rmx) 7.00
4. DX - Paul C & Paolo Martini - 48 Crash 7.30
Ray Okpara's Ama Recordings label rolling steady beats again with their italian friends who fired up AMA in style on its first release.
Again: Paul's Boutique mastermind Martini and his partner in crime, Paul C. deliver fervently!
The Dragon EP on vinyl offers 2 new tracks, a remix from the man Okpara himself – and a bonus track for digital jocks.
Relentles and rolling, AMA's 8th installment starts with "Dragon". A stamina groove, gripping from beginning to end. The percussive drive builds and builds and never ceases to make u feel high. The bassdrive's slightly discoid atmosphere and atmo loops slowly turn into what is a filtered psychedelic trip in his own rights. No escape when this Dragon flies in!
"Turn On" playfully cites Disco and hiphop elements without losing it's heavy, down to earth groove. Uplifting vocal bits and an intense one break manner make this a club track that aims succesfully at winding hips and shuffling feet. Not to speak of those happyily nodding heads we found up and down the floors on which we tested this banger bearing sweetest oblivion!
AMA head honcho Okpara strips down the funk on his "Turn On" remix. The beats elements become heavier, accompanied by some dark and gripping web underneath the originals loop. Where once there was more of a disco feel, here's a dose of tribal afro drive that is heavily demanding. This is a call to groove, not an offer!
"48 Crash" is another bad ass beat with a grinding bassline you can't possibly stop. Rollin' like a damn train, the bonus digital track of this vinyl release has the darkest atmosphere of the 3 tracks. Neverthelesse it is nothing less than pure funk fuelled forward motion in precision.
Looking for club tools of undeniable groove AMA hits the jackpot again.