Did you read part I?
Perhaps this day was the
bubble tea day
for me and you will understand the reason later. I started off a little bit tired and went to the '
Alexanderplatz
', there I looked for an internet coffee shop, but this was frickin' hard and I was going around in a circuit. Finally I found it, but my aunt called me and wanted me to come to the bubble tea store. I had to hurry, of course I arrived.
While she showed me the path to the store, she explained that I would need to help her. There was no excuse so I had to agree.
D (a nice guy) and I had to spread flyers for the store. It was freezing, but we had to endure the cold and stand in front of a school, we've never seen before. Plus we were speaking/advertising to pupils, who were completely unknown, at least for me.
We actually didn't stand too long outside, but I felt like I was outside for a whole day. As we got back, I wanted to finally visit 'Miss Zucker' (of which more later in a German post). That's why I scampered on my whole way, waiting in the crowded
train
with some Spanish and trying to understand, what they were saying.
Running and panicking I reached it – finally. Inside it was a very girly, pink room, very comfy and perfect for a girls' day: sitting, eating and chatting.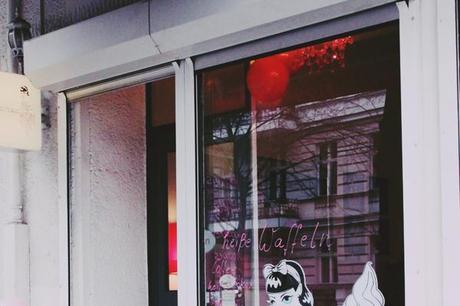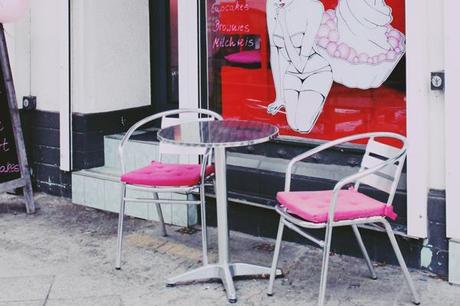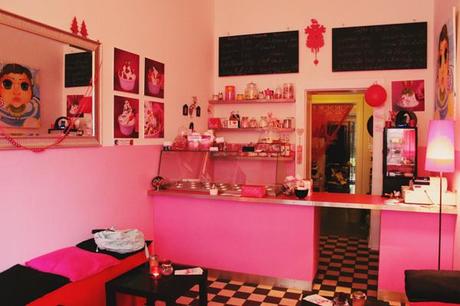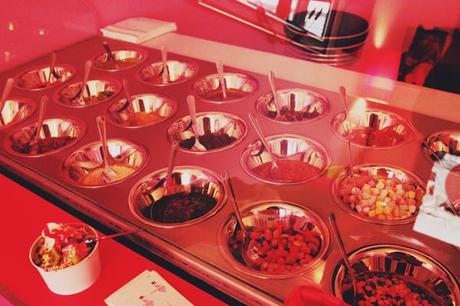 The owner was very friendly, she explained me the toppings of the frozen yoghurt and was glad that I asked her about this store. 'Miss Zucker' as a name is a word coining and 'Zucker' translated to English means sugar. Thus the name is miss sugar, isn't it sweet? She said that name has an American touch and somehow sounds charming. I additionally bought a Valentine's Day
cupcake
and as early as I could, I had to leave the store.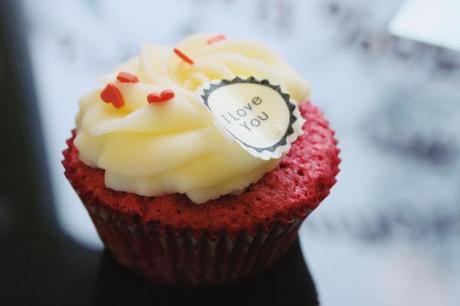 I got love in my tummy.
By the time I opened the door, D was already gone and as a result I sat down and ate my first cupcake. Still, I remember the sweet and lovely taste, but inside I felt bittersweet about this day. Me spending time with friends on Valentines' Day, being happy and sad at the same time, I didn't like it.
Let's skip the whiny part and get to the story.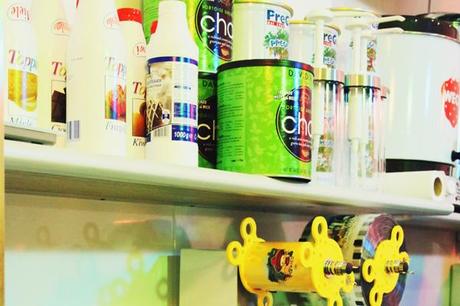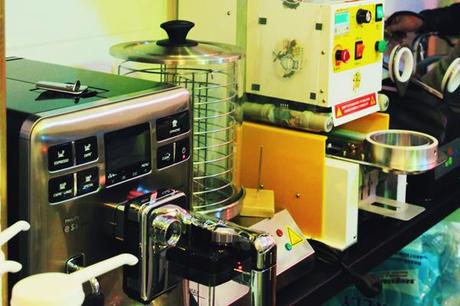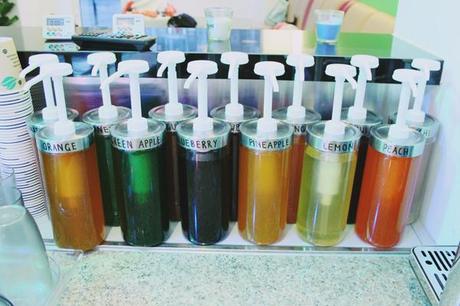 Captions written by me.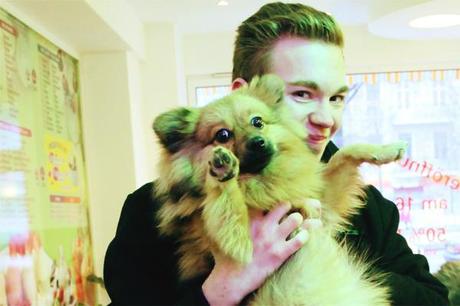 Dream Team: D with dog Bella
Making bubble tea is actually all about the money, the marketing and the well done work. You need to buy certain products and get the knowledge from some Taiwanese people. The most you have to do is advertising, but there are so many teenagers, who like bubble tea that you won't have difficulties of finding costumers. This social network thing to example also adds tons of new costumers and the kids, they all blog, tweet or post about this, so yeah – wait and see.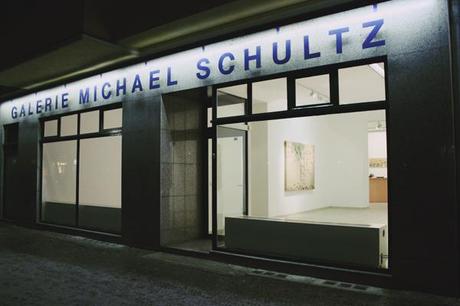 And because I had spent too much time at the store, all the museums have already closed (6 pm). I looked at my art gallery guide for February and eventually went to the
Michael Schultz Gallery
. Honestly, it wasn't really worth it, because it was more of a gallery for rich people buying art, but the artworks were quite stunning.
That night I decided to eat at Chay Village. The fun fact is, since I hurried on the forenoon, I totally forgot to write down the address of the restaurant. So the lonely me went about half an hour in the rain and searched for something that could not be found. You don't know how happy and glad I was when I saw an internet coffee shop! Somehow I feel like all such shops are creepy. People who spent their time there are averagely young adult males and they're either playing computer games or planning petty crimes. I wrote down the address and noticed that I had already seen it and just passed by. Well, I spent 50 cents for nothing – whatever.
In front of the restaurants they have a menu in English and German. I stood like a homeless and observed the restaurant, as if the people inside were from another species.
Chay Village is a Vietnamese and vegetarian restaurant, the staff was surprised that I addressed them in Vietnamese, since 99 per cent of the customers were young Europeans. And I don't regret eating there, 'cause it was awesome! (Or should I change it to
legendary
?) Vegetarians feel at ease and have a good range of Vietnamese cuisine. No Chinese-German food, but almost good and sincere Vietnamese cuisine (A bit westernized, because I did not find any Asian herbs.). But I got stuffed, poor (tip) and happy.
And the day always ends with me going home and sleeping.
On the next day I was travelling back home. My uncle brought me to the central station, where I bought delicious food (salad, cake). Yes, I love food.
Then I arrived and so did the journey end.